INSPECTION OF WOODEN STRUCTURES AND CONSTRUCTIONS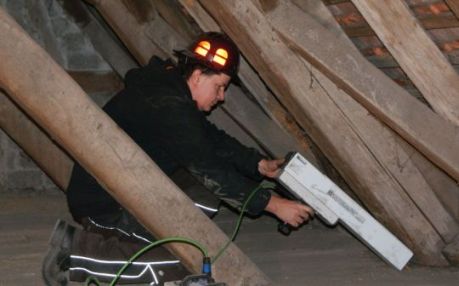 Wood is one of the oldest building materials of mankind and is used in various buildings and structures. Wood is a renewable resource, environmental friendly and presents a special atmosphere. The trend towards wooden materials for building constructions has increased for a great number in recent years. Wood is characterized by its biological origin. It becomes a perishable material that is highly susceptible to environmental factors such as fungi, moisture and insects. Detection of damages to wooden structures, identification of the causes and documentation are a part of my profession and include mainly historical buildings, frame houses, wooden bridges, halls or wooden playground equipment. A fundamental investigation of the wooden structure before renovation is absolutely necessary to prevent surprises and incalculable costs during the renovation process.
Having worked for a number of years with an engineering team of Frank Rinn and his RINNTECH company in Heidelberg I have aquired an extensive knowledge in wood investigations. Mr. Frank Rinn has also developed the Resistograph® which is a main tool for the examination of interior damages to wooden materials. As a customer you will benefit from my extensive experience to locate and determine the causes of wood deterioration, its analysis and detailed documentations provided for customer satisfaction.
For further information or details and quotations please feel free to contact me anytime.